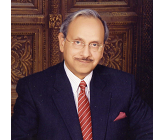 Vision: Envisioned to be an institute of international stature and repute, AIMS is set to be a self-earning and self-reliant autonomous mathematical research institution.
Professor Dr Qaiser Mushtaq has been first a student, and subsequently, a long-standing faculty member, Chairman of the Department of Mathematics, twice Dean Faculty of Natural Sciences, twice Member of Syndicate, acting Vice-Chancellor of Quaid-i-Azam University  and now Vice-Chancellor of Islamia University of Bahawalpur. Having been associated with universities in the aforementioned capacities, Professor Mushtaq wished to contribute to the higher institutes of learning and the mathematical community of Pakistan in general, by establishing the Advanced Institute of Mathematical Sciences (AIMS).
Professor Mushtaq put forward a detailed written proposal of the concept of AIMS to the Syndicate in its 162nd meeting held on 31st December 2013. The Syndicate appreciated the concept very much and agreed to the establishment of the Institute.
In the light of added complexities of association with a particular university, founder members decided to part ways with Quaid-i-Azam University and carry on AIMS' independent journey.